Godets
The worldwide reputation of DIENES is based on its components for the production and treatment of yarns and filaments. DIENES godets offer exceptional reliability and consistent operating conditions for high product quality. All godets of DIENES are induction heated without steam chamber, thus avoiding the use of thermal oil. This means that the heating systems are generally maintenance-free, without hazardous additive and consist exclusively of environmentally friendly components. Customer-specific designs are available for special operating conditions.
Feel free to contact us to determine your optimum configuration. Please use our contact form.
Heated components
In addition to the godets DIENES also provides a wide range of electrically heated components for the thermal treatment of textile materials. Besides the possibility for non-contact or indirect heating between the heater and the material DIENES supplies heating and drying ovens for contact drying. These ovens are used specifically in continuous processes in which materials must be heated or dried.
All DIENES heating products are characterized by a very good control accuracy which results in a high temperature uniformity at up to 700 ° C heating temperature. The controls can be designed for both production as well as for research and pilot lines.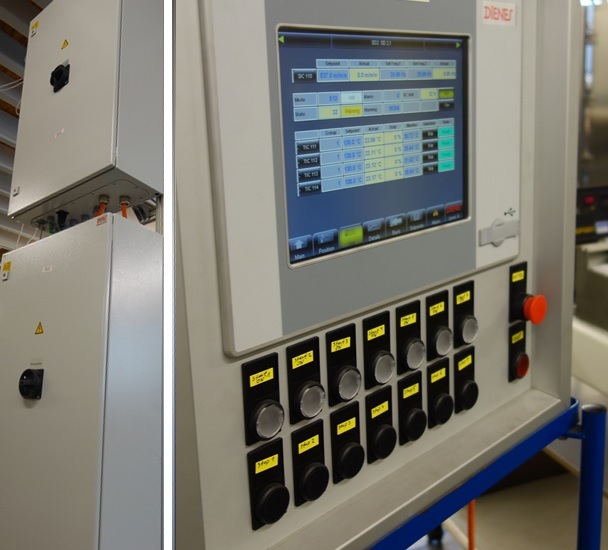 Control systems
Based on many years of experience in the field of control technology DIENES offers today a complete range of controls for the synthetic fiber production. Since 1959 customers worldwide have relied on solutions from DIENES for an effective and economical fiber production.
DIENES DMC 2010 control systems are not only extremely compact, very robust and extremely fast, but also inexpensive and build on the latest hardware components. A visualization via 10.4 " touch screen is provided standardly. An embedded web server allows a process visualization via web browser on any office PC. For industrial control there is the optional possibility of connecting another visualization, a master controller or an external component via standard interfaces.
For further information please use our contact form.